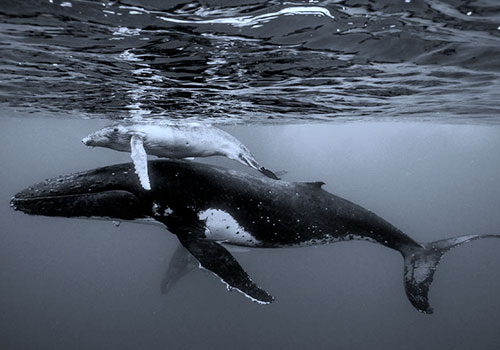 2020 Exhibition
Looking For Whales – Exhibition (17-28 Feb)  & Author Talk (26 Feb) The Grove Library Peppermint Grove
The results of a remarkable quest by two Western Australian photographers, Wade and Robyn Hughes, to observe and record the lives and behaviour of some of the world's whales will be on display at The Grove Library from 17-28 February 2020.
Thirty of their beautiful black and white prints will be displayed in the Library's main hall and Wade will deliver a talk about their experiences observing whale behaviour over 15 years and on 14 expeditions on Wednesday 26 February from 6.30-7.30pm followed by drinks and nibbles.
Wade and Robyn's recently released book, 'Looking for Whales' published by Halstead Press and endorsed by Australian Geographic, will be available for sale at the recommended retail price of $39.95 on the night.  Bookings for the talk can be made by calling The Grove Library on 9286 8686.
The Grove Library
1 Leake St (cnr Leake St & Stirling Hwy),
Peppermint Grove WA 6011
Telephone: (08) 9286 8686
Email: library@thegrovelibrary.com